writing them down. Then he got his boy Jabo in there, John Starks. Jabo's James' yes-man so he's like over-emphasizing everything that James was saying. Every time James says something, Jabo be like: "Oooo! Wow! Ooooo! Ooowee!"
We looking at James, we looking at Jab, we looking at James, we looking at Jab. And we like, it must be cool because Jabo's trippin'! (laughter)
It's crazy, man, you got me started now.
James keeps popping these figures. "Nah. I'm gonna give y'all... three hundred dollars."
And we like: "Aw, man, we got too much happening. We flew for the first time, limo for the first time, made 15 dollars the night before, and this cat's talking about all this money."
He says, "Nah. Think I'm gonna give y'all... three twenty-five."
We talk a little bit more. He says, "Nah, think I'm gonna give y'all three fifty." Then he said, "What ya'll writing down?"
We said, "Well, Mr. Brown, we breaking it down. See how much everybody gets."
He says, "No. No, no, no! That's what everybody gets. Everybody get the same thing. Everybody gettin' that."
We thought when he said three seventy-five, he's talkin' about total for the whole group, right? To make a long story short, when we leave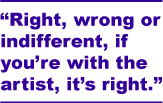 outta there we're making something like $450 a night apiece. We got like three new changes of uniform with matching shoes. We got all the equipment under the sun. We got a Golden Eagle bus to travel on. We got an equipment truck full of equipment, you know what I mean?
So it goes without saying we pinched ourselves for a month or two because we didn't believe it.
We went through that. We learned as much, got as much as we could from being affiliated with James.
Five-O: The pace must have been pretty hard core for the band of The Hardest Working Man in Show Business?
Kash: Aw, yeah. You know what though? He had to cool us down. He had to cool us down a little bit. Because we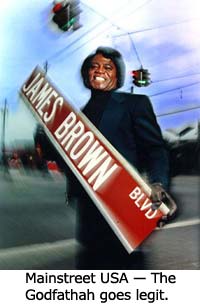 played so hard and we were so strong and fired up, and we really were always tight together, because we knew each other very well on and off stage. And we were trying so hard. So our whole thing was, this is James Brown. You know? You gotta give it UP for him. You gotta be GOOD for him. I grew up, man, listening to those drum licks, man. And Bootsy grew up listening to the bass licks. Catfish, the guitar licks. And we just knew - we had to dig in deep. First thing James did, was kinda like cool us down a little. "Hey, hey, calm down, calm down."
The first thing he told me was, too much foot. I'm like, wait a minute. Too much foot? Then I realized as time went on what was going on with that whole thing. We were just too fired up.
And I realized too how rhythm worked to him. Rhythm really had a dominant effect on James Brown. That's that African in him, you know what I mean? He just reacted to the rhythm. I've seen his body react to rhythm in a way that hurt ME. I couldn't figure out how all those different things happen at the same time on one body.
We stayed with James and got as much as we could out of that. As bad as he was, and as much as we respected him, he was like a father figure to us. Don't nobody want to hang with their dad, you know? As a buddy. So we stayed as long as we could then we split called ourselves the House Guests.
Kash: The House Guest thing was us again, doing our own thing. We scuffled and did some session recordings, a couple songs. The irony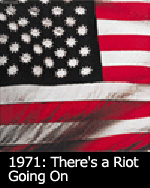 to that was the record didn't leave the city. A little local thing, we didn't have any force, we didn't have any distribution. So it didn't go nowhere or do nothing. And lo and behold, years and years and years later, I go to Japan, and the song is on CD. This is a little wax joint we did, you know a 45 in Cincinnati, Ohio, right? It never left the city, and never really got ample play in the city, you know?
I might still be getting royalties for that song to this day. Japanese, European market, that stuff sells all over.
After leaving James, James had that orderly, military type, disciplinary - the discipline was good. We got a lot out of that. We got professional discipline out of that. Professional discipline I consider is the kind you just do because you know that it's the right thing to do, as opposed to being forced to do it. We got the disciplinarian aspect of it. But we were still wild. We were young as hell and wild too. When we were with James, we would listen to Jimi Hendrix and Howlin' Wolf, you know what I'm sayin'? That was where our heads were at.
As a matter of fact Jimi Hendrix wanted us to be his band before Buddy Miles and those guys. He wanted a

black group. After the Experience, he wanted a black group. Jimi wanted us to quit James and he would pick us right up, and the guys didn't feel good about that so it didn't happen. If it had happened history might be totally different right now, might be crazy as hell, I don't know. But we didn't do that. But that was our cat, you know.
Kash: Point is, when we left James, we went crazy. We went wild. We did the House Guests thing. So now we're hearing, you cats sound like the Funkadelic, sure remind us of Funkadelic, you look like Funkadelic - hey, we never saw Funkadelic. Never heard them. One of those phenomena that happen like once in a lifetime. Never saw them, never heard of them, yet we constantly heard this.
We played Detroit thirty years ago at a place called The Scene and Mallia Franklin, who was the lead singer for the Parlettes, she told George about us, and convinced him to come check us out. And he was looking for a new direction musically with his band and everything. She convinced him to come check us out, and when he did,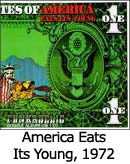 from that point on, from that night we became Funkadelic.
First project we worked on was America Eats Its Young. Very first song I did was "Pussy," "Call My Baby Pussy." Big song for us.
Now what George did, George gave us total freedom. So from James, we had a disciplinarian, and George gave us total freedom. So we had to find a happy medium. And we did a pretty good job of it. We realized not to go too deep, off one end. And at the same time we also realized we were freed up from that other thing that had us shackled. So we had creative freedom and we expected discipline. It worked out very well for us and it worked out for George, because it gave George a different direction which was refreshing. It was the first time he ever used horns. Our horns were the first horns he ever used. It was the first time he ever got into arrangements, dynamics, like highs and lows, stops, breaks all that stuff.
Because Funkadelic's thing was like a groove. One of them guys would start a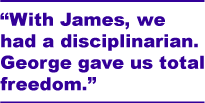 groove, like Eddie Hazel, or Billy Nelson would start a groove and one by one they would come in and just ride that groove forever. We played arrangements. We had an arranged show. And it was refreshing for George, you know?
We recorded "America Eats Its Young," one of the biggest cross-over albums we'd ever done.
We were an act. Independently. George being the scrupulous businessman that he's always been, he could see that. He said, you know what? Why don't y'all hone in on the act and we started working on that, so we broke away from Funkadelic for a minute.
I will always say this: I've always remained Funkadelic under whatever conditions. We broke away and then we called ourselves The Complete Strangers. What we were doing, we were getting back into our own, creating this act that evolved into Bootsy's Rubber Band. We traveled around getting gigs and got back into ourselves as a group, as a unit. Formulated Bootsy's Rubber Band.
Kash: I always say it's funny because Bootsy was kind of like George's
alter-ego. Bootsy is the guy George has got in him but he just didn't want to have to be everyday. Didn't wanna be sharp like that and that star type thing every day. He refuted that for a lot of years. Bootsy was right on it, right into it.
And me, I always remained Funkadelic, so whenever Bootsy's Rubber Band were on hiatus, I would go out with Funkadelic and vice versa. And we did that for a while. And we rolled it and rolled it and rolled it. Until things kind of chilled out a little bit.
I don't remember the exact year but it was when we had the project "Player of the Year," one of our biggest projects as the Rubber Band.
Kash: I did a thing in the '80s with a couple of Rubber Band members, Gary "Mudbone" Cooper and "Razor Sharp" Johnson, I put together a band for this act called Sly Fox. Sly Fox had a big song called "Let's Go All The Way," big song, number three on the pop charts all over the world. Number three on MTV's Top Ten. This was before we could even get played on MTV as P-Funk, you know?
Big song. (Sings) "Let's go all the way. Let's go all the way. Yeah, yeah, yeah. We can make a better day."
During that Rubber Band thing, the Mothership landings and all that were all intertwined together. That's when we were doing the big mega-tours with everybody. I worked with both groups.
Kash: At a certain point I hooked Sly Stone and George Clinton up together. Ironic how that happened. I gained Sly's trust, just by being really into him, really digging him and being there for him. Once he realized I had that in me, I earned his trust.
I also realized he had problems, insecurities and psychological things where he went through so many trips and changes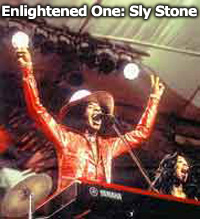 in the industry. I remember he explained to me, remember when he got that bad reputation for not showing up? He said what happened was, he got so large, promoters would actually book shows in three different places on the same night and get the advance sales and then run. Get out of the city. And Sly would get all the bad press.
When he realized he had that little control over who he was, he just said forget it, man. He also told me, Baby Boy, you know what? All those cats that started out with me, I started realizing all of them became millionaires. But nobody could tell me how much I was worth.
He had given up pretty much on the whole thing and I gained his trust and confidence and got him to get back into trying a little music. One thing led to another. Our financier gave me a budget to take him from California to D.C. during Martin Luther King's birthday. I'll never forget it because we met Jesse Jackson going into the hotel. So George had gotten tied up and just left so I had to drive Sly from D.C. to New York to meet with George. They met for a minute, George was doing a lot of stuff back then, he was very, very busy.
So I got orders to take him from Manhattan to Michigan to George's farm. And the rest was funk history because Sly did a tour with us called the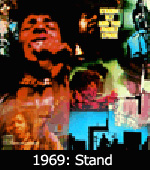 Greatest Funk On Earth Tour, that's with P-Funk, Rubber Band, Roger Troutman & Zapp, the whole P-Funk mob was there, Sly Stone included. He and George did a lot of studio stuff. It was a good thing, you know, it really got him back into at least music, because he's one of the most prolific writers to this day. What happened from that was that he and Jesse Johnson from the group The Time, they went into the studio after that little run, they came up with a #1 hit, "Crazay."
Just from Sly's writing and his affiliations, that song went immediately to #1. I feel very good about that. He's one of those idols in my life who I've always looked up to. I was able to get close enough to him to find out who he really was beneath the facade and the ego. He had trappings for you; if he didn't feel comfortable with you being around he had trappings where you couldn't see what was in front of you. He actually played a big brother figure in my life, taught me a whole lot about things that I needed to know.
Kash: It's been incredible. Very, very, very exciting. And it's been a learning experience. Long as I can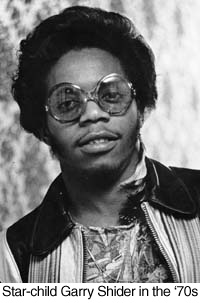 keep with it and experience new and different things - my real draw card is, as long as I know these different cities want us to come and perform and entertain, they know it's going to be a good time; they know we gonna bring George and it's gonna be a positive experience. As long as we got that going on? Hey man, I'm there. I am there.
God forbid it ever comes the day when I look up and I hear somebody say, "Awwnuh. Heeere we go again." Then it's like, OK - maybe not. But as long as I know it's a good thing, spreading joy, man, because people need it.
We're working a lot. Pretty constant. Pretty much permanent tour. It's a good thing, man, because what that entails is the time that we put in and all the energy and the effort, the blood, sweat and tears, we won the trust of our fans. Our fans trust us. In this industry you can't really ask anything better than that, to have trusting, loving fans - they know what they gonna get from us. They know what we have to offer them. They know we gonna give a hundred percent.
P-Funk is the new drug of choice - people need their funk fix, you know? We bring the party with us. There used

to be a time where the after-party was a big deal. After a while, people realize this is the show and the after-party all in one. Ain't nobody else doing four hours but us, no way. To this day. They think we're crazy, our buddies and cohorts, artists and entertainers, they think we're out of our mind. You got to rest for that, eat right for it. You gotta be smart and take good care of yourself.
I learned through my years of experimentation, trying this and trying that - all these things get set in front of you, all these hand-outs and gifts and tokens of love and affection - I learned through checking this and trying that and getting caught up on this and hung up on that. When I got my mind back intact, when I got freed up again, I realized that my best high was being onstage performing - that was the best high ever in my life. It still is. To this day, it's the best high.
It's funny, I don't care how bad you feel, maybe you caught a little bug, how sick you are, you get onstage and in most cases you do a hell

of a show. Now before and after that show, you're holding yourself up. But during that show it's funny how that motivation is there like that. Cuts through everything. Incredible, man. It's something I don't question and I don't try to figure out. I leave that alone because that works. That works on its own.
Kash: Being the responsible drummer that I am, I'm always leading from the rear. I remember one time in Miami, Florida at the Jai Alai - it's this hall that coupled sports and entertainment. The halls for the sport Jai Alai are very hard, very cement-y, very echoey. We realized from trial and error the sound was hard and full of echo. So if you play too fast or too loud the whole point is missed because all you get is echo - sound just bouncing around everywhere.
So we getting ready to play one night in Miami at the Jai Alai and George sneaks up behind me. All the lights are out.
I hear, "Kash! Kash!"
I said, "Where you at?"
"Here! Right here!" It's George.
I go, "What's up, man?"
He said, "Play real slow. Play real slow."
I said OK, but the only thing was, I was the only one he told that to, OK? So I'm pulling everybody back as far as I can. And they all trippin', man, because they didn't know. They think I'm trippin'-that there's something wrong with me, right? I'm pulling them back and pulling them back, and they really don't get it until George came

onstage and they saw we were locked in. And that's one of those times early on that showed me the power that I had. About being a responsible drummer in a big group like that.
First thing you do is create the vehicle for the group so that comfort zone is there. Second thing you do is lock in with the artist, the man who's one-on-one with the audience. The third thing you do is lock in with the audience.
We've actually played songs where an audience got so comfortable, so into it, they would go into a trance-like state. And every now and again I would throw in a weird dynamic beat that would throw them off and kinda snap them out of it and wake them up. Then they would gradually go back to feeling comfortable and I would do this all throughout the night so they wouldn't miss the essence of what we were doing up there.
I learned when you make your artist comfortable, what he does in return is he gives you the responsibility of taking care of the group. Me and George sometimes have cues that nobody else can see. He'll give me a breakdown or have me bring it up, have me speed it up or slow it down, and won't nobody else see that but him and me. Because I'm tuned into him like that and he knows it. So he doesn't have to turn around and overextend himself - "Do it like this! Break it down right here!" None of that. That's what he plays with me for. Same thing with Bootsy - me and Bootsy grew up like that. Me and Bootsy know each other that way.
Kash: So I went from leading from the rear, which I still do to this day, to KA$H UP FRONT.
I've never been a real pushy kind of guy. I've always been patient. So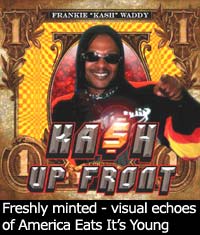 rather than being in people's faces all they time - "Hey, man! I got this! I got that! Bla bla bla!" - I'm not that guy. I don't knock it but I'm not that guy. So when I did start letting people hear my stuff, I'd always hear the same thing.
"Man, who's that singing lead?"
Me.
"Who's that singing background?"
That's me backing me up.
"Wow! No kidding. Who's that playing the bassline on keyboard? Who's doing melody on keyboard?"
I say, that's me. Then I just had to break it down for them. Hey, I couldn't really afford a bunch of players, I didn't have a budget. To have a bunch of cats, I really would have loved to do it - I'm not trying to be president or nothing like that. I couldn't afford to hire anybody.
It showed me people were really interested and blown away in different aspects of me. They know I play drums for all them different acts all these years. What they didn't know is I write great lyrics, great ballads, I can play nice, tasty keyboards - that's what KA$H UP FRONT is saying. Who's singing lead? That's Kash.
It's eclectic. I didn't do a straight funk CD, because I can do that with my eyes closed. I took advantage of the fact that I didn't have to do that. I did one track that's a drum'n'bass thing, one that's like a house thing, a European club dance thing; I did some sequencer things catering to the hip hop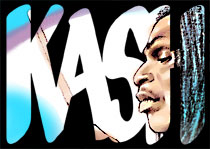 community. I did that on purpose because I went for a long time fighting the sequencers, the MPCs and all that stuff. I turned on the radio one day and everything I heard on the Top Ten was done by MPC sequencers. I said, you know what? I can't be corny. Because we got rejected when we first came in the game. I said, now I'm not going to turn into that. So I buckled down, I read and started learning.
When I first started working out with this thing, the Akai MPC 2000, I was drenched with sweat. I got some of that stuff on there because I wanted the hip hop community to feel like I had them in mind. Because then this thing is sound, you know what I mean? So I got tracks with all those sounds that get them off. Then I got ballads. When you get into it, you'll see.
I wasn't just hunting for a hit. I just wanted to reach out to different parts of myself, show some different sides. The result is, I'm getting a great response.
Kash: Drums, bass and guitar is the foundation of a rhythm section, the foundation of any band. I was gonna call it The Funk Foundation, but I didn't want to be that specific. Because sometimes when you do that you leave out other genres automatically. I said, maybe The Foundation. Naw, that's so common. So I did a little brainstorming and came up with Nu Phound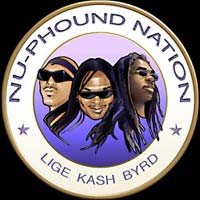 Nation. Everybody loved it - it worked. Our first gig was at the 1650 Schrader club in Hollywood. It was a bang-up night. We headlined, we did very well, had a great reception, we had industry people there, we had fans there, we had great loyal support, everybody was glad we were doing it - it was perfect. I'm looking for big things out of that.
I'm grateful. It's a blessing to be clear, to have direction and value and self-worth and the love of my family and friends. Right now I'm just moving forward through the grace of God.