It went something like this. Around midnight, Secret Agent Bill hits the boards for some high-energy punk and ska tunes - good sound, high energy, tight players. Pretty soon George Clinton takes it to the stage in colored braids and urban camouflage, and the signature rhymes start to fly: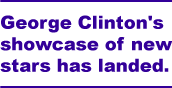 "No one knows where the nose goes when the doors close!" he announces for starters. George and singer Ben Stupid jump down hard on an Agent original called "Nobody Knows."
Now Kei-Key "Bu" joins in on the microphone, heating up your earwax with some out-on-the-block rock and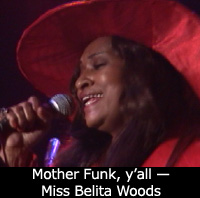 hip hop. The band launches a riff-heavy stoner-rock anthem that bombs along with the chant, "Smoke Dat Dope! Toke Dat Smoke!" It's clear this Agent/Bu original won't win any Presidential blue ribbons, but I can tell you it rocks the house party double time. George Clinton's showcase of new stars has landed.
By now the sweat factor has been activated as various P-Funkers rotate into the mix - exactly where are they all coming from? - Funkadelic drum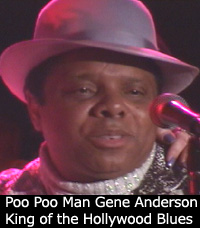 genius Frankie "Kash" Waddy, six-string samurai Blackbyrd McKnight, the sweet sounds of P-Funk sirens Belita "Mother Funk" Woods, Kendra Foster and Kim Manning.
As 99% of L.A. sleeps, the intensity inside the club spikes like the safety dials on an overexcited breeder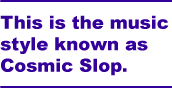 reactor. George breaks out a hilarious number stage tested previously with Prince — check it out on the Purple One's new CD "One Night Alone Live": "It would be ludicrous to think that we are new to this. We do this - this is what we do." And there's another song in which George stunt-casts himself in the role of a booty-music dilettante: "What is a booty?" he sings, "And how will I know if I'm shaaaaking it?"
You turn this way and check out George's son, singer Trey Lewd, mixing it up on vocals with the original Bride of Funkenstein, Mallia Franklin, who's arm in arm with the all-purpose player known as Poo Poo Man, King of the Hollywood Blues.
Over on that end you get Jeff Fogerty on guitar, son of Creedence Clearwater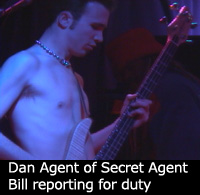 original Tom Fogerty - Jeff is Secret Agent Bill's producer and engineer. There's Geo Evans of the Busboys laying down the groove on guitar, Stuart Hanley from the S.O.S. Band on keys, and rhythm-rider Rob Poole on bass. Right behind George, P-Funk illustrator Overton Loyd hoists up the magic marker slogan that seals the moment: "Caucasian Tested, Brother Approved."
There you have them, a stage full of revelers, veteran funketeers dancing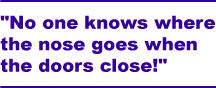 with pretty girls recruited from the floor, a wide-screen spectacle of big smiles and beautiful attitudes. Not since "Hee Haw" has Hollywood hosted a barn dance to rival this one.
And at the center of it all there's Sonny Cool, Secret Agent Bill's manager and producer and Bu's daddy. In Sonny you meet an original Chicago funketeer from the Raw Funk band (Rhythm Around the World), and, along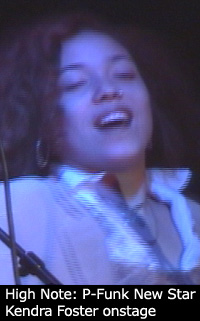 with Agent drummer Stefan B., the originator of this punk-funk pro-am spectacular.
"Please don't mess with my dreams." It's the chorus to a ballad in the key of "Maggot Brain" - Sonny performs it with his daughter Bu, and together, voices rising and falling with all the hope and heartbreak of the blues, they build an emotional peak to the show.
This is the music style known as Cosmic Slop, measured out with razor sharp chops and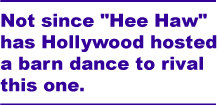 served up hot. Each crescendo yields a new glowing ember of funk that becomes the landing party's prime directive: locking on and locking in, stoking the initial idea into a Mardi Gras parade of improvisation.
It's like a raft ride on a swift current. Hold the phone - there's George taking the lead to "Turn this muthah out!" and bring home the golden chorus: "We want the Funk - give us the Funk!"
To this day no one can ride herd on a buck-wild big band like George Clinton. I swear some of his screams could split boulders. Yet the melody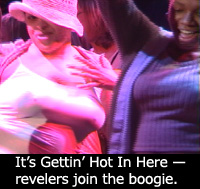 is constantly bubbling up, and the harmony to match. He is a human earthquake-maker, a bipedal tuning fork of rhythm and rhyme - there hasn't been a voice this rich and ragged in the glory of the electric blues since we lost Willie Dixon, Howlin' Wolf and Muddy Waters.
With very little advance warning, it seems that a mob of funk legends, side-by-side with a group of talented near-newborns, has turned a Tuesday night at the local watering hole into a musical demolition area, kicking down walls between genres and letting fly with an arsenal of rock, hip hop, acid grooves and funky sloganeering led by the planetary mass of music knowledge known in his inner circles simply as "G."
It made me proud as hell to be an American.