I had been into music my whole life. Dan was pretty fresh in the game,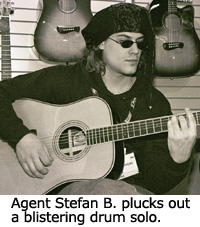 maybe a year on guitar. But I had been playing piano and trumpet and stuff since I was really young. I played trumpet in school band, but I always wanted to play a full drum set. Finally, I was around 9 or 10, and I had been asking for a few years for a drum set, and my dad came home one day for my birthday with the drum set I still play today. It's a Rogers set, the same model that Suicidal Tendencies played on for years.
Five-O: That's one cool dad.
Stefan: He was in the clear because he didn't live with us. My mom was used to it already because my older brother was in several heavy metal bands at the time, and he's now a jazz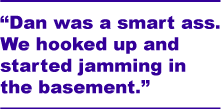 musician. We started rocking out in my basement just literally drums and guitar and writing our own songs and calling ourselves a hundred different names, but Secret Agent Bill stuck that same summer we started jamming. Ever since it's been a rotating door of musicians that have come in to be a part of Secret Agent Bill.
Our singer Ben Stupid is quite a character. He's versatile in what he does. He's a hell of a writer more than anything. Really knowledgeable. He has a very Frank Zappa mentality, I guess you could say. He's also a smart ass, but a hell of nice guy. Extremely smart Jewish kid from Whitney Young magnet school in Chicago. He was in choir. Went to Puerto Rico with the choir.
We've worked hard over these years. Completely DIY punk, did everything ourselves and we're still doing it.
Five-O: I heard about some mentorship from Blackbyrd McKnight & Jeff Fogerty.
Stefan: Absolutely unforeseen. It was a total awakening and a dream come true. Blackbyrd is a hell of a teacher and a great guy. Jeff Fogerty is one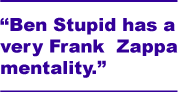 of the best engineers I've ever seen. He's the son of Tom Fogerty, the rhythm guitarist and a founding member of CCR, the oldest Fogerty brother. I was closing my eyes one day in the studio sessions and saying, this is exactly what I want to be doing. When you open your eyes it's unreal - these cats that have been around the world so many times and played with so many amazing people, done everything you would want to do as a musician.
Stefan: Kei-Key "Bu" is from Chicago and she raps her ass off. We got together with her because of Sonny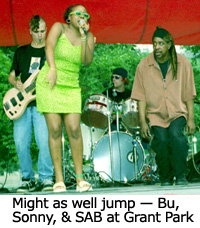 Cool. None of this would have happened if I didn't meet Sonny. It all boils down to that. I was doing a studio session one day. They said they need a conga player to come by. Sonny was there producing the project. Sonny was from Skokie, Illinois, the girl he was producing was from New York and they needed a bunch of musicians and things, so I just started networking, making phone calls, helping them out and hanging out, and at that point Sonny didn't even know I played drums. He though I was a percussionist, conga player, period. He didn't know I had a punk band or

nothing. After about four or five days of hanging out every day all day, I finally played him some of my stuff. And he flipped his lid. He's like, "I've been looking for something like this! I want to work with a punk band. My daughter raps. We can mix the punk with the hip hop."
We came up with out first song with his daughter while Sonny was out of

town. He came back and we had written "Smoke That Dope." It was awesome. We blew his mind. We immediately started recording it and tracking. After that, George Clinton jumped on it so now it's "Smoke That Dope" featuring Secret Agent Bill, Kei-Key "Bu" and George Clinton, with Blackbyrd, produced by Jeff Fogerty and Sonny Cool. It's just wild.
We're definitely some of the only people doing what we do here in Chicago. When we came out to L.A., it was so nice to have a warm reception. We had no idea how they were going to accept us. As a matter of fact that was our first 21-and-over only show ever. At the time three of us weren't even 21 yet.
We were plugging away at a rehearsal space six to eight hours a day just on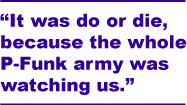 music alone, just plugging it, and with our high energy stuff. At the end of the day we're covered with sweat, we're barely walking straight. Man, it's amazing what that did for us. It totally improved our playing and our musicianship towards each other.
When we were doing those rehearsals, that's when Jeff Fogerty came and saw us sweating it out every day. And then he ended up sticking around for literally three months living in Chicago and worked on our record with us. That was amazing to me that he would do that. About six months before that, we had jumped off a show in Chicago with Blackbyrd. Which was the first incident live of anything that had to do with the P-Funk family.
We met Kei-Key December, 2000. One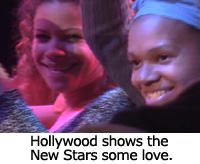 year later we were in Hollywood doing that show with George. For 2003 we got new songs, new attitude. We're honing it and getting it ready to go.
First George heard the tape when Sonny and him were driving around his farm and he says, "You got something there." Sonny knew we weren't quite ready but it was a taste of what he was working with.
Then a few months later, after Jeff and Blackbyrd were working with us and we had some studio stuff done, Sonny takes it to him and George listens and goes, "Oh, yeah. They're ready now." That made Sonny feel really good.
So our first show together with George was in Hollywood at the Dragonfly. We did rehearsals first in Chicago. As a matter of fact George was sleeping, and he heard us playing "Nobody Knows," the song he sings with us, and he woke up and ran into the room and started singing it and jamming with us. It was do or die, because the whole P-Funk army was in that room, watching us. But we were ready, man, we were ready for it.