Five-O: We're here with Steve Lipscomb, president of the World Poker Tour...
Steve Lipscomb: CEO, though that's a particularly nasty term these days, right?
Five-O: Well, in a poker tournament, unlike Wall Street, at least you know you're getting a square deal.
Steve: You know that there are fifty-two cards, and assuming that someone actually shuffles randomly, then you are going to get an even shake.
Five-O: Let's talk about the origin of World Poker Tour.
Steve: How in the world did I find myself spending every waking hour working trying to make the world safe for poker? Fascinating question.
You know, I come from the world of making films, making documentaries, and I was called by a good friend of mine who was working on a project with the Discovery channel to do the World Series of Poker. We went to Binion's

Horseshoe Casino. For the first time instead of them paying for an event to be shot and then giving it away, they didn't have to put up any money this time, which is a remarkable thing in their eyes for what we were doing.
I went and made this show called "On The Inside of the World Series of Poker." It appeared on primetime,
Discovery. It started at their usual 0.9 share and ended at 1.8, so in an hour time with absolutely no promotion we doubled our numbers. That almost never happens. You can get good audiences now in cable, but the fact that you actually double that audience over that hour means that people came, and the ones that came stuck and continued to watch.

That gave me the idea that there may be something here. I then went and shot another couple of events. We have another show that is coming out on the Travel Channel that was a cruise event where the first prize was a million dollars, another poker tournament called "The Party Poker Million". Went and shot that again, just kept thinking — look at all these people who are out there, not what you normally think of as poker players, not the usual backroom, smoke filled environment, but pretty much young interesting diverse crowds showing up in droves to play in these poker tournaments.
So basically, after all that, I thought this would be interesting. I approached Lyle Berman, who is my partner in crime in all of this madness. He is the perfect investor
for something like this. He is one of
the best poker players in the world. Astounding live action and tournament
player who was just this year inducted into the Poker Hall of Fame. He also has been wildly successful in gaming. He is one of the people pretty much responsible for taking gaming and expanding it out of Vegas. So he is a visionary.
I went to him, and he said, "Gee, people have been talking about doing poker on television for the last ten years — probably more. What is it that makes this different?"
Basically the difference was - we have an entire business plan. We are creating a business called the World Poker Tour that is creating the PGA of poker. We are going out to existing events and we are creating this tour that kind of already exists, much the same way that I think the successful sports of today came about. There was this great enthusiasm for a sport — now it's poker. And what we are getting a chance to do is go out and make deals with various casinos. Most of the major events that are playing nationally and internationally are now exclusively a part of the World Poker Tour. This is what we all believe will grow, what will be a very strong new sport sensation.
Every time I go and look at the things we shot, and even at the stuff I don't think has been done well in the past,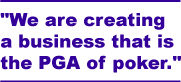 and I think it's compelling. One of the most interesting angles in sports, I believe, is their psychological aspect. Poker is about 40% action, tons of action, tons of things going on at the table and when you shoot with 16 cameras like we do, you get it all. There is a lot of action there, but that other 60% is the psychology, which to me is what makes it fascinating. Believe me when you sit and watch the World Poker Tour, when it gets to the air you will not be able to stop.
I showed a chunk of the first episode to two people the other day — one was a language professor mentor of mine and the other

was a marketer, a woman. I won't say she's never played poker, but if she has it was two or three times. By the end of the first segment they were rooting for somebody, they are actually going back like "Oh no," they are yelling at the screen in the same way you see people who watching things like "American Idol" or "Survivor." They are invested in what the show is. When you see the World Poker Tour, that's kind of what it does. It takes this thing called poker and gives you at home really the chance to have the experience for the first time.
The other stuff, even the stuff I did, was more documentary style — "Hey I am going to tell you a little about the
poker world and you will see a little bit of play." This takes you into the sport. We are shooting on this fantastic arena that you saw, and when you are participating in the experience of poker, you're there, you are sitting in that seat. You get a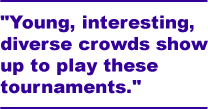 chance to see the player's cards — you know what they have, even though the other players don't, and that rocks. You get a chance to yell at the screen, "Don't do it — my god don't do it. He has aces!" Because you know and they don't. That makes good TV.
Five-O: And you are also seeing something where established champions can be bested by a guy from around the corner no one's ever heard of yet.
Steve: I think that's the coolest thing about this sport. When I try and bill it as a sport, it's the unique stuff about it I think that is particularly compelling. You can't
show up at the Masters, you can't show up at Wimbledon, you can't show up at any of the large sports encounters and play against the Michael Jordans and the Tiger Woods of the world. In poker that's what it's all about. You show up one day against all those guys that are already stars, or that I'm going

to make stars on the WPT, and you get the right cards, you play well, and you may sit at the end of this whole thing at my final table, being the star yourself. And to me that's great.
Man, we live in a country where this is all about democracy. That's what this country was founded on. This country was founded on this notion of democracy. There's no more democratic sport than poker and if you go and sit down at any table, you'll never find a more diverse group of people than sitting at a poker table in age, gender, race, religion. None of that stuff matters because in all religions and all races and all languages,

an ace is an ace and a king is a king. And the remarkable thing is, that brings this international audience all together underneath this common theme. And my god, if we could just take George W. Bush and Saddam Hussein and Tony Blair and all the leaders from around the world and put them around a poker table, they'd have a great time! That's what we need. We need to do the World Poker Tour celebrity challenge with Bush & Hussein. I'll invite them, we'll see if it'll happen (laughs).
Five-O: Take me through the timeline. I know the World Poker Tour began as a business in March 2002. This is a fast-acting operation.
Steve: We shot our first tournament in June. Basically our season is an annual season. It ends in April. In June we filmed at the Bellagio, the Five Diamond World Poker Classic. And then the Legends of Poker, one of the great tournaments that's been around for ages, here at the Bicycle Casino is Los Angeles (Commerce).

We have filmed those and are in the process of post-producing them and then we have 11 more to go. A total of 13 tournaments, the first 12 are all across the country, all around the world, major poker events with prizes anywhere from hundreds of thousands of dollars to well over a million dollars.
The winner of each one of those gets, along with their winnings, a buy-in to the $25,000 WPT Championship at the end of the season (April 2003) that will be back at the Bellagio. So we bookend at Bellagio for, really, the biggest event ever. A $25,000 buy-in has never happened. And depending on who you talk to, it could be gargantuan. Right now, I heard of a bet, someone was betting there would be 150 people there. There was a $5000 bet that went down. Someone said that there would be more than 150 people there. If you do the math, that's around three million dollars, three and a half million dollars there. Not bad.
Aruba is stop number three. We're heading down to Aruba for the Ultimate Poker Classic Tournament. Which is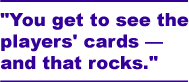 started online and then is moving for the actual event down into this fantastic place called — have you ever seen Aruba? I hadn't either. It's paradise. All those Corona commercials, whatever it is, you see people sitting out there in paradise? That's what it is. So we're gonna go there. Being in Aruba is interesting. They have a whole bunch of amateurs that have qualified to come down and be a part an event and then they have a whole bunch of the top name professionals that will be playing in an event, eventually meeting as a heads-up match between the winner of the professionals and the winner of the amateurs for a David and Goliath contest, which will be kind of cool.
Then we go to Costa Rica, where we will be at the Casinos Europa down at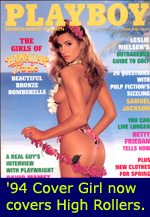 a tournament that's probably the craziest event on our tour. These guys, it's a $500 buy-in. Most of our events are $5,000 to $10,000 buy-ins. You can buy in for $500 but it has re-buys. So after you lose your money you can put another $500 down and it's crazy down there. In Costa Rica, the poker games are outrageous. So basically everyone winds up spending $5,000 anyway and it gets a big huge prize, but the buy-in technically is only $500.
And then in November we go to Colma, California, with the highest per capita distribution of gravesites anywhere in the country. In this little place called Lucky Chance. It's a great little card club up there near San Francisco for their Gold Strike Tournament.
And then we go straight from there, pack up our set, put it on the truck, it drives across the country to

Connecticut up at Foxwoods — largest casino in the world. Very few people know: the largest casino in the world is up in Connecticut. Foxwoods, for their National Championship. Great tournament. Then luckily we have December to sit back, kick back and rest a little bit.
January we go to the Horseshoe Casino in Tunica, Mississippi, where they have a $10,000 buy-in tournament. It was huge last year. It's really one of the premier events on the circuit. We go down there, take a little riverboat gambling angle, then where's next?
In February we have the Aviation Club in Paris, France. That's one I think you should talk to your publisher to make sure you cover, don't you think?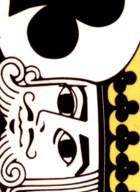 Five-O: It's essential.
Steve: Yeah. I mean, you can't really get the story unless you're checking out what's going on over in Paris. That's an extraordinary club. I have not seen it, but it's supposed to be one of those beautiful places in Paris.
Five-O: So the Europeans are full-on buying in?
Steve: Oh yeah, I'm telling you poker is strong. It had its birth in America, but it's very strong in Europe. As we continue to expand that is probably one of the places I can see us having some kind of expansion would be into other places in Europe. Aviation Club in February, then back here in Los Angeles for the Commerce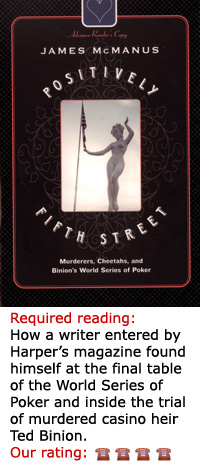 Casino's big event. They have just a gigantic tournament. It was probably the second largest event in the world last year and it will be a monster this year.
Immediately on the tail of that, we're going to leave our set up and have the WPT Invitational and that is where we're inviting top players from around the world. You only come and play if you're invited to a free roll. First time ever that the money has ever been put up by someone other than a casino for what we call a free roll, meaning no one's putting up money for that tournament. You just come, there's a $200,000 prize at the end and winner takes all, walks away with it. So again, breaking new ground. Never been done before. That's in February.
March is the Reno Hilton, another one of those capitols of gaming. And then

the Party Poker Million, which we shot for Travel Channel last year, is now a member of the World Poker Tour, so we hop on a cruise and go down into the
Caribbean, where they have another million-dollar guarantee. So the first prize is guaranteed to be a million
dollars.
Then we have our big event in April: the WPT Championship. That's our road. So if you think about that, it truly is a World Poker Tour.
Five-O: It's Lipscomb's March over here.
Steve: I don't want to jinx it — I guess I should knock on something, because we have to get through our first season, probably our first two seasons for us to be jumping up and
down and saying we're geniuses and things of that sort.
But it truly is for me one of the few times that I've had the experience where I felt like we are really on the crest of the wave. This is the right content at the right time. Poker as an established pastime, established

entertainment, is exploding all over the country and all over the world as
something that people of all different backgrounds, all different socio-economic groups, of all different shapes and sizes, are discovering and finding as something they love to do on a regular basis. Go one night a month, sit down and play Texas Hold'em or Omaha or one of those games. That is an audience that's hugely expanding and there's nowhere on television for those people to show up and poker regularly.
Unlike any other sport — you sit and you watch the Superbowl, you've had a great time, but you don't play football any better when you're done. When you sit and watch any World Poker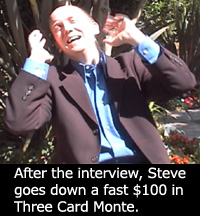 Tour event, you will know how to play poker better. You will actually be a better poker player, I promise you, after a two-hour episode of the World Poker Tour. Because you'll be watching the best guys in the business, the best women in the business, going at it, and you'll get a chance to see not just the cards they play, but the cards they throw away. I think what makes a good poker player usually is the hands you throw away.