But with Charles Phoenix in charge, that all changes. This L.A. artist's
projecto-ray is a prism into the labyrinths of local memory, a '50s time machine, a family reunion under glass, an exposé of tender and hilarious if not downright unsafe family customs, a damn fine way to spend a couple hours at the theater.

It's a wonderful show, warm and indigenous, called God Bless Americana. But when you see it, you
feel charged less with patriotism than with an emotion that says, shaking your head softly, flushed with recognition, I can't believe all of that's gone — because I was there, and they told us this was it!
So far there's been the Southern California summer edition and also the Holiday Show. Each induces its own therapeutic resonation with every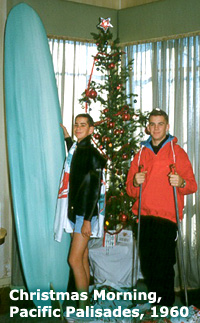 summer trip and holiday gathering you either enjoyed or endured. Though Phoenix salvages his slides from dozens of sources (he is an "addict," and we are his "enablers"), there is inside these candid shots an uncanny coherence between folks who don't know each other — a society as homogenous (and chalky white) as dairy-fresh vitamin D milk. Good God!
Found art, recovered art, uncanny dioramas of local life salvaged at thrift stores and garage sales — call it what you want. It works for me, just as long as you add the dry-martini wit of Charles Phoenix, putting just the right spin on the pains of adolescence lived out on the stage of the new holiday wardrobe, or on the telling gag-photo of a kid with a cow-lick sticking up his baby sister with a genuine nickel-plated .38. Ah, suburban life.
Then there's those ruffled lamps, shadowing Phoenix at every turn like Javerts on the trail of Jean Valjean.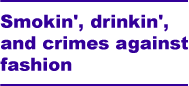 From Hermosa to Hollywood, Long Beach to Pasadena, it appears there are three constants in the Angeleno Cold War era: smokin', drinkin', and crimes against fashion — mainly in the form of ruffled lamps.
You know, here at Hollywood Five-O, we're always striving to regain that Boss '70s feeling we learned to associate with "reality," so for effect on this piece I was thinking of using the headline "Operation Phoenix." Except people might confuse it with the Operation Phoenix in Viet Nam.
One is an ingenious monologue and slide show that I declare to be the antidote to today's most pronounced entertainment malady: over-production.
The other Operation Phoenix? Civilian massacres, but hey! — the Pentagon pinned a medal to future Senator Bob Kerrey's chest for that hair-raising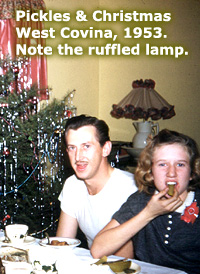 act of valor before he confessed the truth decades later.
Anyway, the Senator's bloodbath is a fit subject for another day, so squash the creepy horror themes and cue the pizzicato of neighborly strings. This Phoenix project, inside the Spielberg Theater within Hollywood's Egyptian, is a family exhibition, although in both events you are forced to confront the atrocities of the Sixties — for Charles Phoenix they come in the form of ruffled lamps.