The other night Sonny and Bu did a show at The Gig on Melrose with Blackbyrd and Kash, plus Kim and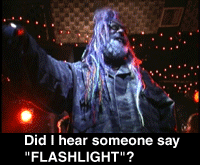 Raquel singing back-up, with an ace band they assembled at L.A.'s Downtown Rehearsal. Now they're in the studio laying down vocals on top of instrument tracks, lining them up and knocking them down, 10 pm to 6 in the morning. The atmosphere is thick with creative tension, focus, cigarettes and a fair share of exhaustion.
Inside the booth Bu lays down her rhyme from "Dreams," the impressions of a hip hop star child traveling the solar system and deep space. Then she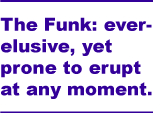 busts it again, new take, no mistakes. The girl is all business in front of the mic. Nate Oberman is arranging icons and colored lines on his big-screen Apple monitor faster than Sulu on Star Trek - dropping in coordinates for warp power to new musical galaxies, phasers set on funk-funk.
Then comes a very auspicious sign - I find one of L.A.'s true-funk all-stars in the studio. He's contributing tracks on the bass: Lonnie Marshall, a.k.a. Mega*Nut, leader of Weapon of Choice and One Nut Stand, and MC of the 50-person Dakah Hip Hop Orchestra (bassoons, cellos, trumpets, saxophones, harps - remember, in Hollywood, this is considered "normal").
Lonnie's also in deep with his partner Gabby on sitar in a duo called Love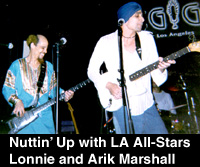 Balm, dedicated to "Rock the funk out of the skunk." All these incarnations make regular stops at Temple Bar in Santa Monica, but Nate Oberman knows Lonnie through the other Marshall Brother, Arik (rhymes with Le Freak), the turban-tipped guitar genius who records and tours with Macy Gray. Nate Oberman tells me a little about engineering Arik's new album "Fantaseality," follow-up to his underground hit "Memories of Amnesia." Arik Marshall's also teaching the Funk Class at Silverlake Conservatory of Music, aka The House That Flea Built.
Hailing from a distant planet called Palm Desert, CA, mega-ton talents

Lonnie and Arik are also security council members of Trulio Disgracias, the all-star band created and led since 1989 by Norwood from Fishbone. Ever-elusive, yet prone to erupt at any moment, the Trulio magnet acts as an activator of genuine home-grown L.A. punk, funk and roof-erasing party rock.
Here's the beauty of it: "The Nut" and "The Bone" - L.A.'s Weapon of Choice,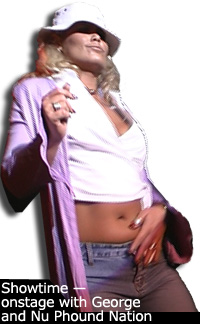 Fishbone, Trulio Disgracias alliance - are the natural allies of George and his P-Funk Time Lords, and together many times they have fought the Funk Wars side by side. In 1998 at the Roxy on Sunset, Trulio gave one of the best shows in memory - it started with a marching band entering in costume from Sunset, and ended with a walk-on jam led new star-style by... George Clinton.
Which reminds me. Excuse me one second - Hey Norwood, what's up with Trulio?? Remember that show at Luz de Jesus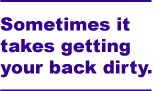 Gallery in '97 with Angelo (Fishbone's wickedly well-dressed lead screamer) judo-chopping on the theremin? The huddled masses need some more of that mean-on-the-scene musical activism! Like the unforgettable Miss Vicky Calhoun, the singer with the pipes of a young Aretha, who turned it loose on "Whole Lotta Love" for a good LONG time - Lonnie, Norwood and Arik teamed up on the Temps' "Shaky Ground" and NWA's "F*** Tha Police" that night. Good lord, people, Trulio is what we need, not Brand X and Boy Band Z.
OK. Got that off my mind. Back to business.
Sonny Cool and promoter Sean Healy, the Chicago import who booked the 2002 Showcase of New Stars,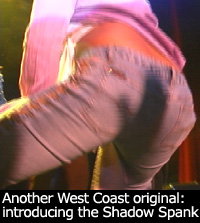 have set Bu up to play the Sunset Strip's Key Club. After that, says Sonny, when the time is right in 2003, that's when he'll make arrangements to bring Bu and Secret Agent Bill back for a rematch with the funketeers of Hollywood. So I just want to make this brief public appeal: any chance of The Nut playing on the same bill???
Has closed the book on 2002. After the New Stars Showcase last January, George and the P-Funk All-Stars played the Winter Olympics in Utah. They toured Europe and America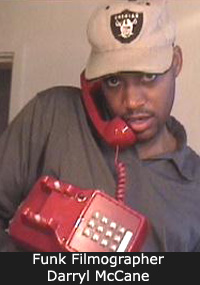 extensively, played the Rock & Roll Hall of Fame in Cleveland (where they were inducted in 1997), and shot a gigantic Nike commercial here in L.A. with Snoop Dogg. GC also mixed it up several times with Prince last year: their unreleased single "Paradigm" (Brother, can u paradigm?) is still a favorite bootleg in the underground - it sounds like a missing duet from "Sign O' The Times"! Amazingly choice.
Meanwhile, after being handed a setback by a Florida judge in his quest to regain rights to the music he made between 1976-82 (including "One Nation..." and "Atomic Dog"), George fired the law firm of Johnny Cochran then filed suit charging malpractice for mishandling his claim. It's a clear message to future counsel: If you lose in court, you must pay George.
Additionally on the new star tip, filmmaker and 4-F funketeer Darryl McCane informs me, "George has been in production on the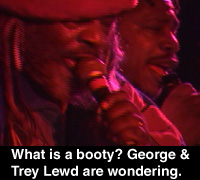 MG3 (Marvin Gaye III) debut CD 'Radio Friendly' (a great track George also performs with P-Funk), and he appeared on the Roger Troutman tribute CD. By the way, GC is responsible for Roger and Zapp's first hit record 'More Bounce to the Ounce.' It was a song written by Bootsy. GC looped the first eight bars and that loop became the song."
Speaking of Darryl, in addition to teaching cinema classes at college, he's putting the cuts on his short film "Funk Wars," screening at the IFP Cinema Lounge later this year. It was D-Funk working the digital videocam when Nu Phound Nation, the power trio of Kash, Byrd and Lige, hit the stage in October at 1650 Schrader to work it out on everything from band originals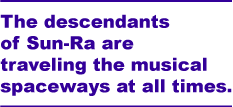 to Jimi's "Purple Haze." George was in town for Titus, so he took it to the stage to jam with his main men alongside Kendra, Kim and a host of P-Funk true-believers.
Everyone do me a favor: read the interview with Kash in this issue - learn about his solo CD "KA$H UP FRONT," his friendship with "big bro" Sly Stone, and one of the most entertaining careers in music. Watch out for the quiet ones - he's one of the deepest cats in the game.
Which leads me, after a year on the trail of the UFO Funk, Project Bluebook-style, to my summary conclusions.
The Funk is among us. And the Funk works in mysterious ways. Keep one ear to the grapevine, because that's where you hear about the Good Shit. The Funk is a many-splendored thing, and sometimes it takes getting your back dirty.
So be ready for George, because he's bringing it. Be ready for Nu Phound Nation. Look out for Bu & Secret Agent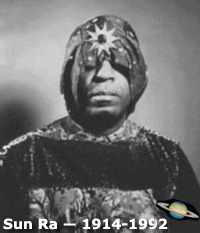 Bill when they bring the punk-funk back West. You won't see anything else quite like them this year. Keep your antenna extended for the sun-baked funk of The Nut, The Bone and the unstoppable Trulio Disgracias.
Remember - the sons and daughters of Sun-Ra are traveling the musical spaceways at all times. It's a legacy handed down by Curtis Mayfield, Marvin Gaye, Joe Strummer, Bessie Smith. Make the effort to meet them half-way -- the rainbow bridge could be as close as your neighborhood pub.