Elvis Presley's anger over his wife's affair grew so intense that in 1973 he issued orders to have Priscilla's boyfriend killed. That's the shocking scene described by Red West, who was Elvis's friend and bodyguard for over 20 years.
Years of abusing powerful prescription drugs had fed the destructive side of Elvis' personality and hastened the end of his marriage. Now the star was consumed with jealousy over his wife's new romance with handsome karate intructor Mike Stone. Even worse, Elvis was the one who insisted Priscilla take lessons from the powerful young martial arts expert in the first place.
God-fearing and sensitive as a youth, by 1973 Elvis was capable of anything, including ordering a mob-style murder.
It was no surprise Elvis turned to Red West for the death warrant the obsessed singer wanted placed on his rival. Red was Presley's most loyal and trusted friend for over 20 years. As Memphis teenagers, Red prevented the budding superstar from being thrashed by high school bullies who wanted to cut his long hair. Rugged and quick-fisted, Red quickly went from small town football hero to senior member of the Memphis Mafia, the squad of musicians, musclemen and business cronies who served The King's every whim.
Now Elvis was asking Red to betray everything he believed in to serve the drug-fueled rage that was consuming the troubled singer's soul.
Red received the order at Presley's headquarters. He was called up to the deluxe 30th floor Imperial Suite penthouse topping the Las Vegas Hilton. Even though he was on tour with his mistress, beauty queen Linda Thompson, Elvis could not bear the thought of Priscilla with another man. Red tried to calm his boss, but Elvis was a man possessed.
"Mike Stone must die. He must die," Elvis kept repeating.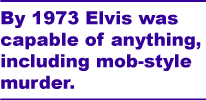 Red recalls his trademark voice was monotone but fierce. His eyes were glazed and dark as he chanted the order. Elvis fixed him in his gaze. Red believed Elvis was trying to hypnotize him.
"You will do it for me. You must. He has no right to live. Red, find someone, somebody to wipe him out," Elvis commanded.
Then, after an injection from his personal physician, the King sank into a narcotic slumber.
Red understood Elvis wasn't kidding. In Vegas a call to the right underworld connections could fix a hit for the fee of $10,000. That was small change to the highest paid performer in the world.
Red's sense of decency and fair play battled with his absolute loyalty to his boss and hero. He sought the advice of a trusted

friend, actor Robert Conrad, star of the TV show "Wild, Wild West." Conrad wisely counseled Red to stall Elvis until the singer came to his senses. Even so, Elvis continued his demands for the death of Priscilla's lover. And day after day Red continued to make excuses and buy time.

Finally, Red huddled with Elvis in private a few minutes before the star took the stage in concert.

"I found the right guy," bluffed Red, "but I didn't do anything about it yet. E, are you sure you want me to call this guy back?"

The question hung in the air. Elvis was silent.

"Aw, hell," said Elvis finally. "Just let's leave it for now. Maybe it's a bit heavy. Let's just leave it off for now."

Mike Stone was spared.

Red had seen the dark side of America's idol. But now the fury had passed, leaving behind the God-fearing Southern boy Red swore his loyalty to years ago.

Elvis never mentioned the subject again.

— Nate Diamond