Each are quality recordings worlds apart as far as style and attitude is concerned. Together, they represent early examples of the fracturing and blurring of pop and country that began to appear in the early 1970s with the ascension of the "duet" album, the sensation that gave us Tammy Wynette & George Jones, Dolly Parton & Kenny Rogers, Glenn Campbell & Tanya Tucker, Clint Eastwood and Clyde the Orangutan.

Despite the immaculate production, spot-on musicianship by the studio band, and a mellow, lovey-dovey, touchy-feeliness, Full Moon pales when compared to Conway and Loretta. As boisterous, loose and haphazard-sounding as the Hollywood album is calm and calculated for mellow vibes, Nashville classic Louisiana Woman, Mississippi Man is somehow the ugly duckling who comes out ahead.

Perhaps it's the anonymous studio musicians who supply the foundation for its undeniable charm. Or maybe it's the ancient country clichés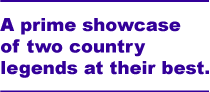 presented at face value throughout the album. Or maybe it's there mere presence of good ol' Conway Twitty, that reliable anchorman of Country Music, whose "Hello, Darling" captured the hearts of millions throughout the world, leading to the inauguration of his own theme park, Twitty City, shortly before he passed on in June of 1993.
Nope. This is Loretta Lynn's album, and this much is abundantly clear: this is Loretta at her peak, with her instantly recognizable, energetic and vulnerable voice a blessing telegraphed to your auditory nerve. To be fair, Conway does an fine job as well, but it's apparent to listener that he wisely lets himself slide squarely into the number two position so Loretta can Do Her Thing. In fact, it's only on a few tracks, like the title one, that Conway gives his vocal chords a real workout.
And Loretta shines. She tackles every song like it's the last one she'll ever sing. Imagine "For Heaven's Sakes." You'll never find a more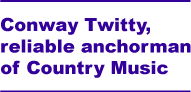 maudlin, sappy, squarely by-the-numbers heartbreaker of hillbilly pathos than this ditty. You know the drill; a man and woman, no longer in love with each other, stay together solely for the good of their baby girl, an adorable moppet aptly named "Heaven." Awww. Cue the violins and steel guitar as Conway and Loretta croon about skinned knees, puppy-dog tails, and just about every other hoary old romantic groaner about parenthood. All in all, it's a horrible, horrible song which, done by lesser artists, would be a regular feature on Doctor Demento.
Except for one thing. Conway and Loretta sell it and sell it convincingly. These are two seasoned pros of the Nashville circuit, and even the filler material between hits (every duet single released from Conway Twitty and Loretta Lynn hit the top ten of the Country Billboard charts - five of them went to number one) gets treated with a care and professionalism that is sorely lacking in the digital age. "Release Me" is as fine an example of country at its best than anything this side of Willie Nelson or Patsy Cline. And Elvis would have been proud to cover the gospel-flavored "You Lay So Easy on my Mind."
There's even more fun to be had; some semi-Cajun country pops up that

predates the immortal Jerry Reed by a few years, and tons of the classic heartbreakers. All in all, Mississippi Woman, Louisiana Man is an album with a song to fit all moods and seasons, a prime showcase of two country legends at their best.
Meanwhile, ex-Rhodes Scholar, movie actor and drunken helicopter pilot Kris Kristofferson was probably sipping Earl Gray Tea and blowing smoke rings of Acapulco Gold whilst gazing at seagulls as they slowly wheeled by in the misty morning Malibu sky when he dreamed up Full Moon with his duet queen Rita Coolidge. It's a laid-back, Stonesy, faux-country kind of album, the kind that pointed the way to so many "E-Z," "Adult Contemporary" or "Lite" Rock hits that, in a desperate gamble, the nation embraced disco as a remedy.
But whereas Louisiana Woman, Mississippi Man was geared as a hit single-generating golden goose, Full Moon is a mellow, pop-a-half-a-Quaalude with your sweetheart and blot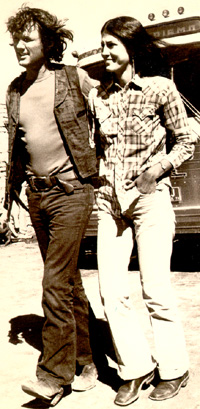 out the reality of Watergate, Vietnam and the death of Flower Power sort of affair. Viewers of television in the mid-'80s will recall witnessing the seemingly endless string of TV ads for the All-Time Greatest Country Hits, Big Hits of the 50's, and the most nauseating genre of all, the Ultimate Love Ballad Collection. These spots invariably featured couples enraptured by each others presence; moony-eyed gazes across candlelit tables, wine glasses clinking together next to a roaring fire and hippies walking hand in hand across a beach during sunset whilst the heavily-gauzed camera lens drinks in the afterglow.
Any song on Full Moon could easily lead off the Greatest Love Ballad album. The back cover alone, featuring Kris and Rita photographed in a backlit embrace, gives no illusions as to the nature of this album. Each song effortlessly flows from one to the next, with nary a change in key or tempo. And while the intended effect was probably intended to be soothing, the real result is quite the opposite; the quality of sameness in almost every song becomes oddly distracting instead of relaxing.
As a whole, the album comes across as too lackadaisical and mellow for even the most devout early morning beach-walking couples. Don't get me wrong; the backup musicians, featuring all-time greats like Herb Alpert and Booker T. Jones, do a terrific job. They are certainly light years better than their Nashville counterparts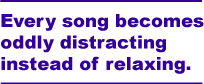 backing Conway and Loretta. Kris Kristofferson sings quite well, and his then-wife Rita Coolidge possesses a remarkably velvety, sensitive, alluring voice. To be fair, the songs themselves aren't that bad. There's just something that seems to be missing from Full Moon as a whole, a mystifying achievement for the guy who wrote both "Bobby McGee" and "Sunday Morning Coming Down" (covered by country alt-rock legend Johnny Cash), a tune voted Best Song of 1970.
But then again, Full Moon isn't really country per se: It's more of a make-out album for the burgeoning New Mexico yuppie set. And I'll wager in that department it still holds water. But if you ask me, it's that ever-so-precious musical seriousness that screws the pooch every time.
Plus there's no heartbreak here, no real sadness. No wisdom imparted from foolish mistakes, getting sent to prison, or untimely deaths of a spouse or loved one. And no spazzy, inbred, retard goofiness — the humanistic cornerstone that anchors the most maligned of America's native musical styles. That would be "not cool" and dangerously close to "uptight." To compensate, there's loads of Jimmy Buffet-style bongos and xylophones, Hawaiian slide guitars and Hammond organs, and warm choruses of overly-rehearsed crooning.
In short, whether one chooses Louisiana Woman, Mississippi Man or Full Moon could be summed up by one's drug problem. Alcoholics and speed junkies will probably enjoy attempting to remove hallucinatory spiders from

their sweating bodies or plowing their 18-wheeler through an old folks home to the rollicking tunes of Conway and Loretta. Barbiturate-bingers and bong-huffers will definitely prefer Kris and Rita's mellow vibes as they peruse back issues of Mother Jones or wander through the fog inside the local Pottery Barn.
It breaks down this way. Whereas the LA sex symbols each appeared on "Saturday Night Live" in its ultra-hip '70s NYC prime, their Nashville counterparts, on the other hand, went nowhere near Rockefeller Center but instead each graced the stage on "Hee Haw."
Still, give Conway & Loretta credit for doing the groundwork. Would Kris have been able to effortlessly make the leap from Air Force Colonel to Country Star to Movie Idol ("Cisco Pike," Rubber Duck in "Convoy," toe-to-toe with Steven Seagal in "Fire Down Below") had Conway Twitty not appeared in and composed the songs for 1960's "Sex Kittens Go to College" aka "Teacher Versus Sexpot"?
The answer is yes, but you gotta love Conway for trying! Anyway, the other three stars made up the difference by each appearing on the "The Muppet Show." Loretta Lynn and Gonzo. Rita Coolidge and Beaker. Kris and Miss Piggy. They may not be the standard country duets, but compared to whatever the hell Shania is cooking up these days, I'll take the frog to block.

— Robot John