How did we get here - spending each April bunkered down inside the Temple of Noir with a quicksilver I.V., in a state of Noirvana, eyeballs soaking in every moody shadow and muzzle-flash from a bygone era of virtuoso filmmaking?

It started here, at Noir Fest #1 back in 1999, with lead-off screening "The Narrow Margin" (1952), featuring original noir siren Marie Windsor and director Richard Fleischer in person with a lively Q&A for a packed house.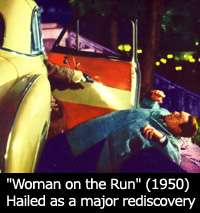 Ever since it's been a spree of classic crime pics each spring - a cinephile's bender with a playlist hotter than Mike Hammer's briefcase - you can't touch this!
As the ritual reaches Lucky #5, it's time to make the recognition official: The American Cinematheque's Annual Festival of Film Noir is the premiere exhibition of its kind in the world.
The programming, from San Francisco crime scribe Eddie Muller and Cinematheque's Dennis Bartok, is so magnetic that as early as Noir #1, enthusiasts were expressing not only

bliss, witnessing the big-screen time-warp of the Greatest Noirs on Earth, but also film-nerd phantom pains and bona fide depression when the rigors of normal life caused them to miss out on some of these rarities and famed lost treasures. They're not exaggerating - some of these movies are the only existing prints in the world, and they sure as hellfire aren't available in most video stores.
It's like my main man Cisco say - if it wasn't for Cinematheque, I'd either be dead or in prison. Not really, but what about the living hell of obligatory razzmatazz multiplex nonsense??? It's like we're offered a sumptuous five-star dinner catered from Europe's finest chefs at this palace for the senses but instead we all go stand in line for corny dogs at the Wal-Mart snack bar.
To each his own. For my part, give me the Rites of Spring. The Silver & The Black. The Commitment to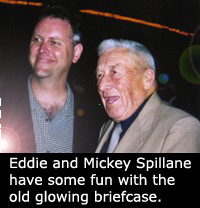 Excellence. The John Alton photography. The likes of Burt Lancaster and Barbara Stanwyck onscreen, directed by Robert Siodmak or Jules Dassin. The post-screening scrums in the lobby with Monte Hellman, Matt Dillon, Leonard Maltin, Johnny Legend, The Lizard King, jazz giant Charlie Haden, even the late, great loose cannon Lawrence Tierney. In person guests like Jack Palance, Ricardo Montalban, Turhan Bey, Jeff Corey, Janet Leigh, Jan Sterling, Jean Simmons, Virginia Mayo, Lizabeth Scott, Rhonda Fleming, Terry Moore, Stanley Rubin, Robert Wise,
Joseph M. Newman, Andre de Toth and Malvin Wald. You've also witnessed Muller's Miracle, the Noir #3 event where Eddie assembled five of the greatest Dark City Dames of all time - Ann Savage, Audrey Totter, Jane Greer, Colleen Gray and Evelyn Keyes.
Also, allow me to dumptruck you with a few of the blockbuster titles Noir Fest has revived to "active duty": "Mystery Street," "The Prowler," "The Sniper," "711 Ocean Drive," "Highway 301," "Tomorrow Is Another Day," "Nightmare Alley," "Hangover Square," "The Suspect," "The Reckless Moment," "Decoy," "Caged," "Phenix City Story," "99 River Street," "The Burglar," "The Amazing Mr. X," "Where the Sidewalk Ends." And the beat goes on.
It's been beautiful. But trouble's brewing.
We had the market cornered on precious silver for four full years. But now our L.A. monopoly on Film Noir has been cracked wide open. You got to understand: the "Noir City" Film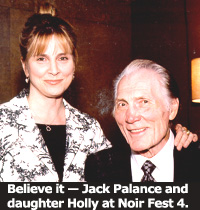 Fest at San Francisco's Castro Theater this January was a runaway smash. Imagine full houses with 1300 seats (yow!), 10 nights and 20 films, all of them set and shot in San Francisco! No wonder the competition's tough: it's Eddie Muller the SF/LA Double Agent producing this thing. And it's got the city going nuts!
Meanwhile I couldn't help but notice the L.A. Times has never yet written anything about Noir at the Egyptian, nothing about how it programs the rarest, choicest titles - the stuff that has people flying in from the East Coast and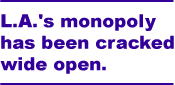 Europe; talk to them, why don't you? We have - for the last five years. Odd. If Richard Pena programmed this thing for Lincoln Center, it would be postered across the NY Times Sunday arts section like crazy. But in L.A. the editors are too ass-face lazy to cover the very thing the city is famous for. Even for Muller's Miracle the pendejo L.A. Times was M.I.A!
But until now it's been cool. Sometimes an empty house late at night adds just the right flavor of lost Masonic ritual. Let's just say attendance at the Greatest Noir Fest on Earth was often middling. Meanwhile the Bay papers rolled out the red carpet and the hipsters of SF attended in droves. On the heels of Eddie's hit poster-art book "The Art of Noir," the "Noir City" festival has been a full-on home run.
Hear that, Hollywood? You got some competition now! We got a tradition to uphold here. And the competition's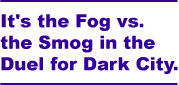 hungry. Are we gonna let those tie-dyed dot-com refugees eat our Film Noir lunch??? If it's going to be the Fog versus the Smog in the Duel for Dark City, then I am prepared to get it on!
So I say unto you: never mind the L.A. Times. Except for Chuck Philips blowing the lid off the Tupac murder they haven't done shit all year. This is a testimony direct from the Real Five-O. If all you require is the best that ever was, then make your date with Noir #5. Drink the Film Noir Kool-Aid. Take the cure with us. Join us in Noirvana. Be made whole for what has been deprived us, lo these last 50 years. Good whip-smart writing, gripping characters, Olympian acting, the greatest fatalistic photography of all time - the sweet, silvertone satisfaction of film fatale.
— Nate Nichols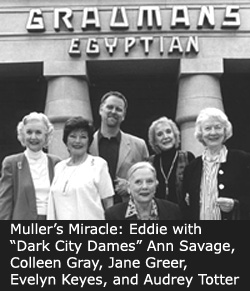 HIGH ALERT!
(EGYPTIAN THEATRE, HOLLYWOOD) —
Black diamonds dominate Cinematheque's Fifth Annual Festival of Film Noir. Farley Granger in person!
It promises to be a banner year in rarities and classics - so what else can you expect?
For starters, please prepare to wrap your optic nerves around a brand-new print of William Dieterle's DARK CITY (1950), Chuck Heston's first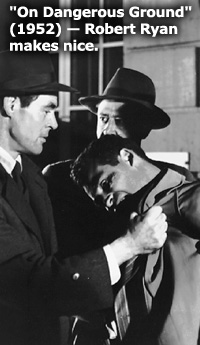 Hollywood movie. Plus a brand-new print of Rudolph Mate's UNION STATION (1950), starring William Holden. Plus Eddie Muller's major rediscovery this year, a title being ballyhooed right now in Europe after it raised the roof at the SF Noir City fest in January: Norman Foster's WOMAN ON THE RUN (1950), starring Ann Sheridan. Also be ready for a special proto-noir double bill of the original version of THE GLASS KEY (1935) with George Raft, and the long-unavailable STRANGER ON THE THIRD FLOOR (1940) starring Peter Lorre!
And check out the essentials complementing the rarities: FORCE OF EVIL (1948), the Scorsese touchstone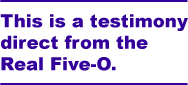 from John Garfield and director Abraham Polonsky; KISS ME DEADLY (1955), with Ralph Meeker as atomic thug Mike Hammer with its famed big finish; and Nicholas Ray masterpiece ON DANGEROUS GROUND (1951), with Ida Lupino and Robert Ryan.
Plus I can't wait to see Joe Newman's famed social drama ABANDONED (1949), and Tyrone Power in con-game freak show NIGHTMARE ALLEY (1947), the legendary recovered masterpiece from Noir #1.
Joseph Mankiewicz rarity SOMEWHERE IN THE NIGHT (1946), with Richard Conte, is intriguing, and fans of wildcard director Hugo Haas, you got a double header of BAIT (1954) and PICKUP (1951) coming down the line. I'm also psyched for NIGHTMARE (1956), starring Edward G. Robinson, and a little known hit-man gem, BLAST OF SILENCE (1961).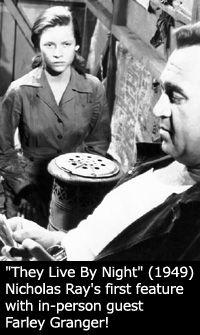 Speaking of Little Caesar himself, you also got Hugo Fregonese's BLACK TUESDAY (1954) starring Edward G. Robinson and Peter Graves.
Mark Robson's THE 7TH VICTIM (1943) gives us some quality time with Kim Hunter, and you can also sink in deep for a Joe Pevney double-header of SIX BRIDGES TO CROSS (1955), with Tony Curtis and Sal Mineo, and THE MIDNIGHT STORY (1957), with Tony Curtis and Ted de Corsia!
There are many A-1 guests being assembled but it all kicks off with a

tribute to legendary actor Farley Granger, who'll be flying in from NYC special to join Dennis and Eddie in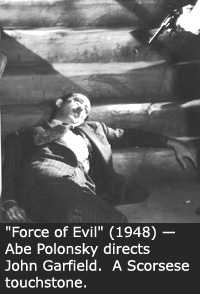 person to accompany and discuss many of his best films, like Hitchcock's STRANGERS ON A TRAIN (1951) and ROPE (1948), plus Nicholas Ray's first feature, THEY LIVE BY NIGHT (1949), and Mark Robson's EDGE OF DOOM (1950), co-starring the excellent Dana Andrews!
I want to wish everyone a salubrious, brainstem-invigorating festival of bon cinema. Look for me in Noirvana.