Meet the two genius-types behind the reVamp and
Lucy B. vintage burlesque fashion show.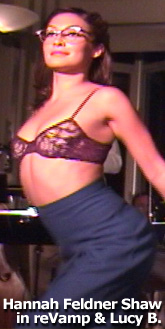 ReVamp, brainchild of Annamarie Firley, makes deluxe vintage apparel. At Lucy B., the studio next door, Michelle Landry creates vintage-inspired lingerie. Factor in a swanky nightclub producer known as Maxwell DeMille and two weeks later you have a a curvy carousel of vintage eye candy, equal measures burlesque resurrection and swingtime fashion machine.
You see, Club Maxwell's at the Argyle is a 1930s-style supper club where a dance orchestra plays period music, people mingle in evening wear and Maxwell introduces the entertainment — anything from magicians and tap dancers to a bubble dance by vintage pin up star Dita von Teese.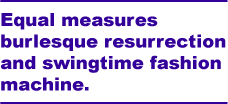 Annamarie got invited to show her stuff at Maxwell's, but then the main designer had to back out, leaving Annamarie holding the bag. Show biz on short notice is a dicey game. The pressure was on. Would she bomb as the headliner? Get blackballed when no one showed up??
There are moments in life that cry out, Eureka! With Edison it was "Watson! Get your ass in here, man, I have it!" One Friday night only two weeks before the event, Annamarie's muse suddenly belted it out: "I KNOW. THE GIRLS SHOULD TAKE THEIR CLOTHES OFF!" Then came the Greek chorus: "YES! GIRL MODELS WHO STRIP. NO ONE'S DONE THAT BEFORE!"
Michelle Landry moved in next door a few weeks earlier. Her brilliant Lucy B. line of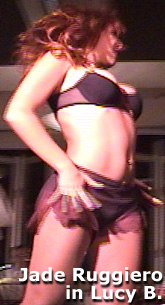 vintage-inspired lingerie was just what the doctor ordered for Annamarie's swing-stripping fantasia. Michelle? She was in.
Now it was Maxwell's turn. "I just show up and I'm like, I've changed directions. It's going to be a burlesque fashion show now!" First there was the classic producer's double-take. But Maxwell said he could swing it. And so was solved the riddle of what makes makes the phones ring in publicity-happy L.A. Calls followed from Brazil, Russia, even East Coast tuxedo tabloid Vanity Fair.
"The advance press response has been phenomenal," says Annamarie. "More than I got for my bathing suit show, which was ZERO."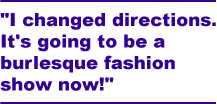 Is it some essential difference between bathing suits and underwear that sparks the reaction? "No, I think it's more the idea of girls taking off their clothes," says Annamarie. "It's also the art of striptease instead of 'let's get naked as soon as possible and see how much money gets thrown on the catwalk.' It's something fun and comfortable for women to attend."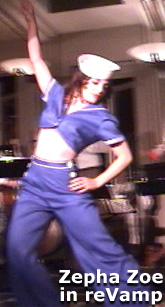 About then, fine washables superstar Michelle Landry joins the press conference. Michelle, avid swing dancer, hails from San Diego. She's been designing for ten years, the last three right here in pueblo Los Angeles. So I lead off with the sensible question: how does one get into women's underwear?
"My whole approach to vintage lingerie came from the underground swing dancing scene," she says. "I always noticed there wasn't really anything fabulous to wear underneath your fabulous swing dress, so I had to make it. And it evolved from there into a business."
Lucy B. last worked the runway in February for the homeless charity called UnderShare, and for anyone still with us and not fast-clicking through the photo gallery, here's where things get even more interesting.
You see, when you decide you're going to have a night out with your best date at Maxwell's, and you're watching high-toned showgirls putting Annamarie and
Michelle's designs in motion with a swanky band playing and everyone all manicured in their penguin suits, the last thing — and I do mean THE LAST THING — on your mind is going to be: "Do the homeless people outside have clean underwear on?"

Michelle debriefs us. "UnderShare was founded by Helen Huang and it raises money to provide underwear for the homeless. It's a non-profit group with a fashion
show fundraiser called 'Underdressed.' Their slogan is 'With Liberty, Justice & Underwear for All.' Which is really cool because when you think about it, you may give old clothes to the mission, but who donates underwear? There's a real lack of it. I don't even think the charities accept it."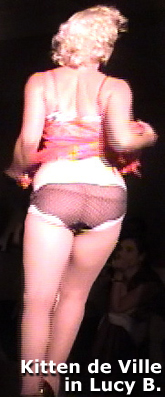 Now here was a story with some dimension. From '40s glamour girls prancing around in their nighties to lingerie activists preventing skidmarks on Skid Row, the lesson rings loud and clear: with clean underwear everybody wins.
Back to Michelle: "I consider my stuff contemporary. It goes to a lot of contemporary high end boutiques across the U.S. The people who like it are are the ones who love vintage and also the people who are really fashion forward, contemporary women. So it has a strong cross-over."
Annamarie: "It's for people who are Fashion Backward AND Fashion Forward."
Michelle: "Yeah. That's cool!"

I have to leave the geniuses at work — as Annamarie says, "We're busy working on my garments that can be taken off well and Michelle's undergarments that are going to look good underneath."
The verdict? Hollywood, you're a tough room. But Annamarie, Michelle, Maxwell, and their Burlesque Bombshells are ready for their close up.