Five-O: Stanley, two of your blue ribbon titles are hitting 50 in 2002. I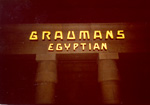 wonder if you'd like to comment on them: "The Narrow Margin," a low-budget noir masterpiece (and favorite at the Egyptian Theatre), and "Macao," starring Jane Russell and Robert Mitchum, which recently ran at the L.A. County Museum.
Stanley Rubin: The most memorable thing about "Macao" was that I wrote the screenplay and the contract that my agent had worked up for me at
RKO stipulated that if my screenplay would go into production, that I would be given the opportunity to produce it. That was the deal. So when I finished the screenplay and Mitchum and Jane Russell agreed to star in it, my agents went in and said, OK, the deal is that Rubin gets to produce this. And RKO said, well, well, we want to hedge this a little, because Rubin has never produced a feature motion picture. He's very young and inexperienced and this will be one of our big pictures for the year because of Mitchum and Jane Russell. [Joseph von Sternberg was tapped to direct.]
The studio reneged, really, on the deal, but they offered a substitute. They would have one of their veteran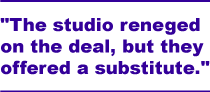 producers produce "Macao," but they would allow me to develop a story and, as a first production, produce a low budget picture. So it was their reneging on my producing "Macao" that gave me the opportunity to buy a story called "Target" and that story "Target" became "The Narrow Margin."
It's funny, I can't remember telling that story to anybody before, so you've got a first. I have to give all the credit to my agents at the time. Ray Stark, who became a very big gun in town as an independent producer. The other was Harold Rose. Both of them had been officers at Famous Artists Agency.

I had already produced a television series with my friend and collaborator Lou Lantz, who was a good writer and playwright. We had done a television series together called "Your Show Time," which was the very first television show shot on film for a national sponsor. We made it in 1948 and '49. It won the first Emmy award [for an adaptation of "The Necklace" by Guy de Maupassant], which I have over my head even as I speak, and it's

dated January, 1949. So I'd gotten a
taste of producing and I liked it, I liked being in charge of the whole schmear, the whole works, overseeing everything from beginning to end on a production. Being very good agents, Ray and Harold went in and worked out that deal for "Macao." I take no credit whatsoever. I'm very happy now that RKO balked at my making "Macao" and instead let me buy "Target" and make "Narrow Margin" instead.
What happened with "Narrow Margin" was kind of interesting. We finished the picture in '51. Howard Hughes had taken over the studio. He ran the finished cut, our cut of "Narrow Margin," one midnight, which was rather typical of Mr. Hughes. By the
way, I never met him. I did get memos, but never met him in person. Hughes had bought the studio while we were making "Narrow Margin," but later he brought in Jerry Wald and Norman Krasna to head up production at the studio. In any case, Hughes ran the picture, which had gotten very good word of mouth already. I got a memo from Mr. Hughes, saying he thought it was a very good film, but that he wanted to hold it — instead of releasing it when it was due to be released, the memo stated that he wanted to hold it for a while and he wanted me to think about some way to turn "Narrow Margin," which we had shot for under $250,000 and in under 15 days, into an A-picture. Well, there wasn't any way to turn "Narrow Margin" into an A-picture unless you just scrubbed the picture and recast it with A-names and shot it all over again. I communicated that feeling to Mr. Hughes, but he persisted in thinking that there might be some way to turn it into a big picture. And he held it under his arm or in his vault for a year and that's why "Narrow Margin" was released a year, year and a half after it was finished.
Five-O:
Was the Hughes cut much different from yours and Fleischer's?
SR: Hughes added at least one additonal heavy. I think Dick Fleischer shot those scenes. I was gone. I was already at Fox. Hughes added one heavy, and then he did another thing which was not smart, it was just an oversight, I guess, on his part and we didn't discover it until one night at Cinematheque at the Egyptian.
They ran "Narrow Margin" and someone asked: 'How come Charlie McGraw and Jacqueline White didn't go to pay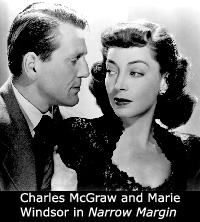 their respects to Marie Windsor, who'd been shot and killed in the line of duty?' And I said, of course they stop to see her, before you saw them sneaking off the train to go down the tunnel to get into town. Well, we looked at the picture again and that scene had been removed. That moment we had shot was gone. That was a bad, bad, bad oversight on the part of Mr. Hughes. Nontheless, the picture was a good picture. We were all very proud of it, and people were impressed with the performances, the pace, with the plot turns... The picture was screened by Darryl Zanuck and that motivated Fox to make me an offer to come over there. Dick Fleischer went on to do "20,000 Leagues Under the Sea" for Disney. Both of those things came from "Narrow Margin."
Five-O: What are your recollections of the Red Scare in Hollywood in 1952?
SR: It was a terrible, terrible year. I remember that Lou Lantz got blacklisted, although we preserved his credit on "River of No Return" [1954,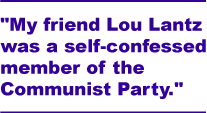 starring Mitchum and Marilyn Monroe, produced by Rubin]. Lou Lantz was a self-confessed member of the Communist Party. Of course, it should not have been a problem. You may or may not agree with someone being a member of the Communist Party, but the thing that got forgotten was that the Communist Party was a legal party in the U.S., there was nothing illegal about being a member of it.
I got questioned a lot. They called me into an office. It wasn't the FBI but I can't remember who. I don't remember the details. I think I've blocked them out. I know I was interviewed and they questioned me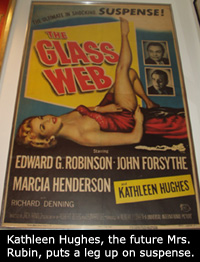 about Lou Lantz. Now Lou Lantz had already told me when all this thing arose, he said, Stanley, I'm going to tell them that I was a member. They're going to question you and you can tell them about me, because I am going to be self-confessed, so don't worry about it. That's about all I remember. The whole town was aflame with this zeal to banish guys like Lou Lantz, Ring Lardner, Jr., Dalton Trumbo, the Famous Hollywood Ten, Adrian Scott. These were all very talented people and most of them in addition to being talented were also very nice people. Some of them were a pain in the ass. But most of them were very nice.
Five-O: Any question of them being a threat to national security?
SR: Absolutely not. They joined the Communist Party, as I listened to them talk, because they had compassion for the unemployed and the poverty stricken. They wanted to make the lot of the poor people in the country better. They were compassionate communists, as opposed to the compassionate conservatives we have
today. That's a quote.