Arty, long-haired lads with clean, jangly guitars. A singer with a cool voice you can't understand. And a band with a talent for sounding absolutely nothing like the Allman Brothers.
Instead of FM rock conventions you get humidity, hyperactivity and homespun talent. Add beer, boredom and college kids and you might just have something.
Stipe, Buck and Mills all hit the scoreboard in this practice game, but I give this EP to the drummer. There's no "Moby Dick" chewing up an album side, but it's clear Bill Berry's eardrum-thumping did a lot of the heavy lifting required to put this bar band into arena-land.
Very soon the band would reunite in the studio to record their most successful single ever, "Summertime Girls" –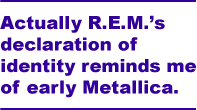 my mistake, that was Y&T. But who knew that a gold rush of hit albums, classic singles and big city sing-alongs would follow in the tracks of this bright, modest document on the gravity effect of small town life? Had John Cougar-Mellencamp even addressed the subject yet?
As the Reagan years made their merry way through time, many moments were spent puzzling over the ghostly appeal of "Underneath the Bunker," or jamming to the Tom Waits-strength scronk that closes "Can't Get There From Here." Absolutely none were spent anticipating the emergence of R.E.M.'s soft-spoken frontman into a celebrity marketforce of nature to rival Bono, Sting and Madonna.
Call it the "Being John Malkovich" effect and file under: "before they were rock stars."