Strolling up the ramps to the mighty Hollywood Bowl en route to a triple bill featuring hip hop MIAs Arrested Development, sax man Maceo Parker, and soul-funk Jedi Master Isaac Hayes, this reporter was not surprised to see numerous attendees sporting elaborate Gazelles, straw hats, and even the occasional dashiki. I was intrigued by the demographic mix-down as young hipsters and the silver haired Chardonnay set poured in alongside genuine soul searchers who undoubtedly long ago wore out their Staxx albums from Black Moses himself and fellow label mates like Johnny Taylor, Rufus Thomas and the Staple Singers.
This potent yet almost unholy alignment of Philharmonic refugees and Van Peebles aficionados personified the evening's tantalizing contradictions. Dyed-in-the-wool funk fans grooved to every song put before them, while those with ancestrally inherited season tickets waited patiently for the requisite performance of the "Theme From Shaft."
When Hayes finally ascended the stage, the crowd already had a chance to sing, dance, and sip Hennessy under the stars. Now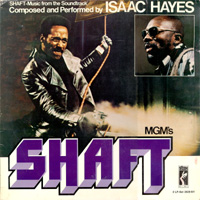 all that remained was a blast of sweaty, refried OG funk & soul to round out the evening and send everyone home to get righteously laid. Rumbling through a signature set of such classics as Burt Bacharach's "Walk On By" from 1969's Hot Buttered Soul, Hayes reminded his home town that Barry White isn't the only sexy, soulful ultra-low frequency vocalist that can induce the ladies to swoon while their men listen and learn. Listen and learn we did, as Isaac and his band masterfully did their musical thing. He may have turned the big 6-0 on August 20th, but it's evident that clear-wave funk will continue to keep the composer/arranger/sex symbol everlastingly potent.
Then, without warning, the sultry, love-jam tone of the evening took an unexpected turn when, for his penultimate song, Hayes,

with a smirk that I may have only imagined from my seat 140 rows from the stage, turned to the Bowl audience and said, "Hello, children." Those of us in the cable-box counter-culture instantly recognized the over-emphasized drawl and familiar verbiage of Hayes' alter ego "Chef" from the potty-mouth cartoon series "South Park."
My stunned party quickly looked at one another and said, "Impossible. No, he's not. Is he...?"And before you could say, "They killed Kenny," Grammy and Academy Award-winner Isaac Hayes — aka Black Moses, aka Truck Turner, aka Gandolph Fitch from "The Rockford Files," aka The Duke of New York from "Escape From New York," aka CJ Mack from "The A-Team," aka Hammer from "I'm Gonna Git You Sucka," aka South Park's Chef — was introducing his favorite laugh-inducing musical recipe, the ingeniously inappropriate ditty "Chocolate Salty Balls," well familiar to all fans of Trey Parker and Matt Stone's expletive-spewing construction-paper schoolkids.
As TV-land graduates of South Park Elementary began to cackle hysterically and apply high fives with funked-up vigor, the white wine contingent frowned, perplexed, disoriented,

fundamentally uncomfortable. "Did he say...Chocolate Salty Balls?" was heard more than once as the king of Wattstax rolled through a rollicking version of the song that had one third of the audience singing along, one third snickering like third graders, and one third literally paralyzed, jaws dropped with no fucking clue as to what just happened to their lovely night of high-toned "Jazz At The Bowl."
"Shut your mouth!" was the vibe I caught from more than a few of bemused bourgeoisie. To which comes the lightning-fast yet ever-mellow response of Isaac Hayes, the world's greatest reigning animated comedian soul star: "I'm just talkin' 'bout my testes!"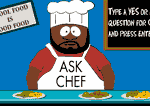 The evening was suitably concluded with the predestined "Theme From Shaft" but by that time, the damage was done. Isaac Hayes had literally torn the house down and it was clear that the evening belonged to those who were complicit in his extremely funky naughtiness.