1972 was a time when a high-stacked afro, warm smile and wide-collar shirt with a funky rayon print seemed to hold every promise for a better world. Offering sweet relief from war and strife, Jermaine was ready to steal America's heart.
Steering the Jackson Five starchild from the bubblegum aisle to the grown-up table, Motown mastermind Berry Gordy created a tasteful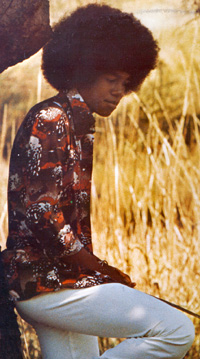 carousel of everything that was good and right – or at least selling – on the charts at the time. Take away Jermaine's reedy, people-pleasing soprano and you get hi-fi orchestrations and choral arrangements you could drop behind Vegas-era Elvis. Combine that with some jazzed up 1950s doo-wop ("I Only Have Eyes For You," "Daddy's Home") and you're ready for American Graffiti Jackson-style. There are Holland/Dozier/Holland compositions, plus productions by "The Corporation" – even a little Paul Simon. Problem is, it's all delivered in the same voice, technically excellent, yet absent in a "take-18," falling asleep in the booth kind of way – too controlled, with any true emotion flash-frozen in the diamond-crush of grown-up showbiz. But let's be fair – it's tough for any 17 year-old to put over the world-weariness of "Homeward Bound." This Jackson is a lot of things, but "a poet and a one-man band"?
In the end, Jermaine is an album to check out for the novelty value of its state of the art 1972 arrangements.

It's wholesome pop music marketing played straight. By contrast, Michael's hedonistic Off The Wall album was somehow irresistibly bent – Q-tronic funk with all lines converging on the dance floor. That's the platter that never stopped spinning and that's where the keys to the kingdom were seized at last.