Not the expected pairing perhaps, but there you have it. He played Captain Kirk, a man who was frequently subjected to extremely painful bursts of sonic energy that caused him to lurch around in telegenic agony.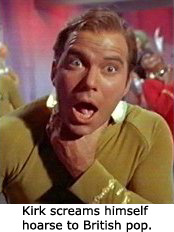 Shatner excelled at this brand of acting. My Bloody Valentine excelled at making this brand of noise.
Set the time machine back to 1992. Clinton-hating, Starbucks and Grunge are making their march across the USA.
In L.A. Shatner completes the requisite 25th anniversary dog and pony show saluting the candy colored TV space opera that made him immortal. He has yet to debut the insipid "Tek War" TV and paperback phenomenon that proves to be both a cash cow and ingenious career transition.
With filthy lucre still only a distant prayer, Shatner in August takes a bid reportedly in the low, LOW six figures to play in a dodgy "Lethal Weapon" parody starring Emilio Estevez and Samuel L. Jackson. It's one of Shatner's most important comedy assignments since huffing nitrous oxide with Will Smith on an episode of "The Fresh Prince of Bel Air."
Though Shatner is intended to deliver comic heft to this rip-off of the Abrahams/Zucker/Proft satire machine, it's

actually unclear who is more amusing: General Curtis Mortars, campy villain of "Loaded Weapon," or Shatner's earnest, tormented portrayal of a dolphin-obsessed Serbian warlord on TV's "Seaquest," opposite "French Connection" refugee Roy Scheider.
Meanwhile underground darlings My Bloody Valentine tour the U.S. There is much rejoicing, but the victory lap disguises a ruthless Pavlovian experiment. It's true – you get the smeary, dreamy endorphins of "Loveless" laced with the voice of audio angel Bilinda Butcher. Then you also get a 15 to 20 minute blast of HIDEOUSLY UNIFORM MACHINE NOISE, about as musical as a quarter hour on the runway on a hydraulic lift directly behind a roaring jet engine.
People were squinting, shifting on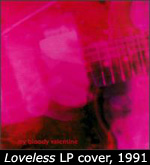 their feet, filtering to the exits – one resourceful guy held red plastic drink cups against his ears so he could modulate the roar with cool stereo envelope effects at his leisure. After realizing it wasn't going to stop anytime soon, the thought quickly formed: "This is so fucking cool (I wish it was over)."
Yet in retrospect something obvious was missing. A little comedic energy to leaven the extremely dense star crush of MBV's sonic Jericho.
And so, a proposal for the most effective concert video projection that never was: behind the sulky Brits and their deafening caterwaul, the portly Shatner in his original gold and black togs (or at least the "Pray for the Wildcats" facsimile), flailing wildy across a cheap cardboard mock-up of the bridge, not for one minute or two, but for the full 20 minute program as, onstage, guitar maestro Kevin Shields stokes the inferno of some deafening cosmic forge.
Yes, that would have helped. But any way you cut it there's a lesson inside this shell game of fame and fortune.
By 1992 Shatner should by all rights have been winding down a checkered career of low-grade pop glory tainted with unfulfilled promise, while My Bloody Valentine looked as if the crown of psychedelic UK pop was theirs for the taking.
Instead Shatner was officially designated a pop culture legend, commanded tabloid headlines with his personal
disasters, and cashed in his notoriously uncool "Transformed Man" persona for TV ads shilling priceline.com. After decades of eating Charlton Heston and Leslie Nielson's dust, Shatner had become untouchable.
MBV principal Kevin Shields, on the other hand, has scarcely been heard from since. All that remains is a pitiful comeback vigil from a few fans as unreachable as everyone waiting for "Appetite for Destruction II." Yet Nature abhors a vacuum – today we have the ultradependable, road-friendly minstrels of Stereolab.
Still, there are those who believe the time will come when Shatner – in the middle of an important banquet or perhaps onstage at some convention – will suddenly drop to his knees and clap his hands to his ears in cosmic euphoria – like the shattering of infinity on the cathode tube of his mind. On that day, America, you can tell your children, behold! – My Bloody Valentine is risen. Praise Kirok, they are risen.
Five-O Out.