It was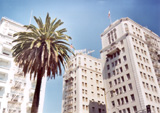 just another afternoon on patrol in Hollywood. Palm trees. Movie stars. Cops wheelbarrowing dope out the back door of the station house.

That's when dispatch

called in a report of an extraordinary new breakthrough in Striptease Technology, namely a vintage fashion show to be held at a fancy art-deco hotel on the Sunset Strip, featuring six L.A. bombshells modeling swingtime apparel then peeling down to their swingtime undies.
Bombshells in their underwear? I fired up the cherry tops, double-pumped the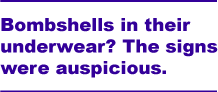 airhorn and pointed the
Five-O half-track towards the city's teeming downtown garment district. The signs were auspicious. Only the night before a couple of blocks away at the ancient, cavernous Palace Theatre, the Five-O delegation attended a triumphant exhibition of the film "Santo Confronts Death," starring
Mexican wrestling immortal el Santo.
Last night 1969's best Mexican wrestling movie, and today a fashion studio hatching schemes of Swingtime Strippers on Sunset? The public most definitely had a right to know. Here's what I found.

— Nate Nichols