Five-O: What are you working on currently?
James B. Harris: I'm developing "Mr. White's Confession," which we're setting up for a late Spring 2003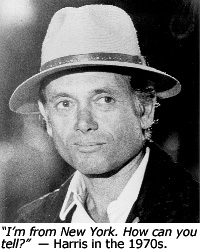 start. It's a novel by Robert Clark that won the Edgar [aka The Mystery Writers of America Award] in 1999. It's set in 1939, a period ripe in intrigue. "The Wizard of Oz" and "Gone With The Wind" are playing onscreen and the Nazis are marching across Poland. I'm going to make you feel that, smell that, breathe it as the story unfolds. It's a mystery and an enigma, a story of injustice centering on someone very unusual. Someone who is not guilty of a crime but who seems to be guilty, and is

perceived as so because he is different. It's an interesting theme, really good parts, good characters, it's going to have a great cast. I read the book and I knew I had to do it.
By now you know that when Jimmy says those words, it spells good news for movie lovers. We'll have more here at Five-O on "Mr. White's Confession" as it develops.