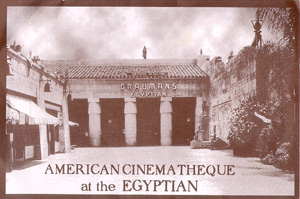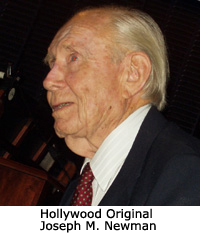 This Roaring Twenties birthday special was celebrated with a feature from the days when audiences roared and the pictures were silent — it's the title that opened the film temple's doors, Douglas Fairbanks, Sr. in "Robin Hood."
On that October night in 1922, 13 year-old boy scout Joseph Newman was costumed in Sherwood green to perform in the gala theatrical prologue that preceded the popular silent picture packed with action, heroism and romance.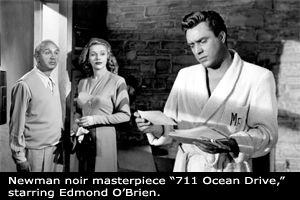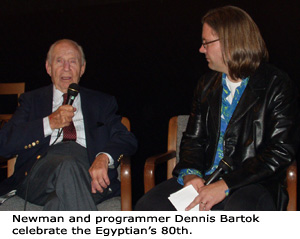 The electric trolleys are gone now. So are the stables and orchards. But Joe Newman and the Egyptian are both going strong. What a privilege for cinephiles as Newman revisited his career from MGM office boy to director of wartime shorts like "Obey The Law" and "Don't Talk" (screened at last year's Noir Fest #4) to feature titles like social drama "Abandoned" and noir classic "711 Ocean Drive," even sci-fi favorite "This Island Earth." Top shelf. Fairbanks in grand in "Robin Hood," too — he's hilarious.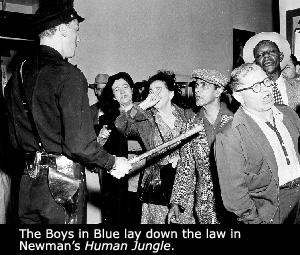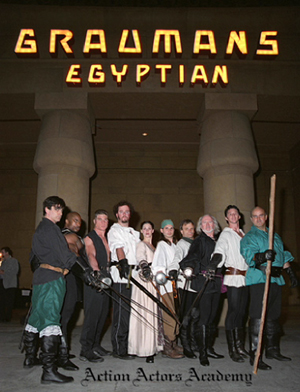 Cinematheque also welcomed the Action Actors Academy, led by swordmaster Robert Goodwin, for some Sherwood Forest-style sword-clanking, scenery-chewing and good-natured rough-housing. It was a little disorienting watching people battle each other with swords and sticks inside the theater. Usually that happens when you're looking for parking. Nevertheless this well-met troop put on a committed display of Renaissance fair vaudeville mayhem. Book them for your office party at www.actionactorsacademy.com.
JMN: "Way down on La Cienega where Venice Boulevard is, but this was before there was a Venice Boulevard – the electric trolley lines that took you from Hollywood to Venice Beach ran there, the boulevard came later – on La Cienega down there the studio had their Maximus. It was the scale replica of the Roman Circus Maximus. They were shooting "Ben Hur" there (1925, starring Ramon Novarro). My first job at the studio (MGM) was office boy, every morning I filled up Louis Mayer's fountain pen. I filled up Eddie Mannix's pen too. But at the Maximus and "Ben Hur," my job was to hand out the boxes of sandwiches to all the people working there. That was where I started."