If Howard Cosell were here, he would call this comeback unlikely. It is clearly unexpected. It is by all means unprecedented. Quite frankly, it could be called unbelievable.
There was a time not long ago when Evel Knievel was a dead man in waiting. He was on life support and in immediate danger of a fatal shutdown. The daredevil showman required a life-saving liver transplant. He was wasting away on the waiting list for a full year, dogged by setbacks, debilitation and depression.
At that moment, the Soviet Union had a better shot at staging a comeback than Evel Knievel. The doctors gave Evel 48 hours to live.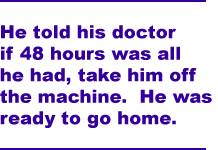 Evel caught hepatitis C years ago, through a bad batch in a blood transfusion, and now the deadly infection was in full control of his life.The stoic cycle hero looked like hell, battered, underweight, pale as a ghost bent for the grave.
Just past 60 years old as he lay attached to life support, Evel could have passed for 80 or more.
January 26, 1999. That was the day Knievel hit bottom. He did something he had never done in his life. He stopped defying death.
He told his doctor if 48 hours was all he had, take him off of the machine. He was ready to go home. His final hours would be spent with his lady, his family and a Maltese puppy named Rocket.
Evel resigned himself to die. But someone upstairs refused his resignation.